Welcome to FindTheDivine…
FindtheDivine has been providing databases worldwide that include retreats centers, conference venues, properties for sale, spiritual advisors and retreat leaders, retreats and events, since 2000.
Phil Stone, Founder and friend
Board Member
The Shalem Institue of Spiritual Formation Washington D.C. Metro Area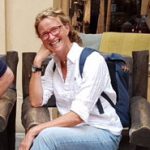 Isabelle Marraud Robinson, Owner
Isabelle was Coordinator for Contemplative Outreach of Northern Virginia for 9 years helping  with logistics for contemplative retreats in the area.
She is currently Communications Coordinator for Contemplative Outreach and Communications Manager for the Omega Center.
She is available for digital media and web services. Contact her here.
She was on the board of Rendez Vous Haiti, a sustainability initiative founded by Loyola French instructor
Catherine Savell in the wake of the 2010 earthquake in Haiti. This project is aimed at empowering and enabling destitute Haitians to support themselves, to develop concrete ways to improve their situation, and to sustain their own community.
Isabelle  studied at the School of the Louvre, and the Institute of Art and Archeology at the Sorbonne in Paris before moving to the United States.
Fields Marshall, Technical Support
Fields Marshall has over twenty years experience as a website developer and consultant. Formerly from the Northern Virginia area, Fields now lives in Pucon, Chile with his wife Mabel and two kids where they run AvaniYogaRetreats.com