Paz y Luz Spa and Healing Center For Sale, Cusco, Peru
Pisac, Cusco, Peru
Paz y Luz Hotel, Spa and Healing Center http://pazyluzperu.com/ is located in the archeological park of Pisac in Cusco's Sacred Valley, Peru, surround by stunning mountain views. Established in 2004, it is a favorite of mystical groups, yoga trainers and independent travelers looking for rustic beauty, healing and inspiration. The gross revenue in 2016 was about $200,000.
Paz y Luz (Peace & Light) has 24 guest rooms (all with private bathrooms), 2 reception areas with kitchenette, fireplace and sofas; a reception office, glass-walled round meditation room and a full kitchen for long term guests. It also has 3 two-bedroom bungalows with bathroom, fireplace, living room, dining area and kitchen.
A new spa building opened in Nov. 2016 http://pazyluzperu.com/wp/healing-center/ with Jacuzzi, dry sauna and two tiled tubs for floral and herbal baths – glass-walled with stunning mountain views. There are two massage rooms in the spa building, a reception area, a small meeting room and large, wood-floored conference room. http://pazyluzperu.com/wp/conference-facilities/conference-room/
Paz y Luz has a fully operational restaurant and large round glass/wood conference room with tiled floor and beautiful wooden ceiling beams. The whole property is more than 30,000 sq. ft. All 10 buildings are built in the traditional "Inka" style with adobe (mud) bricks, wood beams and tiled roofs. Modern touches include many sky-lights, glass walls and large windows.
Diane Dunn, creator and owner of Paz y Luz is looking to sell part or all of the property and buildings, or sell the business with rental options for the buildings. She is looking for a visionary entrepreneur who is passionate about taking over Paz y Luz and expanding it, with groups who come for retreats (yoga, dance, art, writing, et. al.) and/or destination weddings. The buyer should ideally have both managerial and marketing experience in the hospitality industry, with an emphasis on marketing through social media and the internet. An ideal buyer could also have existing contacts with retreat leaders and yoga trainers who could bring their groups to Paz y Luz.
Three options to buying Paz y Luz:
1. Purchase the business for $500,000 and rent the buildings for $2000 a month with option to buy at market value when ready.
2. Buy Lots 3, 4 & 5 (see aerial map) for $2.3 million
3. Buy lots 2, 3, 4 & 5 for $3.1 million
Any interested parties should write Diane a letter, sharing information about themselves and their interest in Paz y Luz and their vision for its expansion. diane@pazyluzperu.com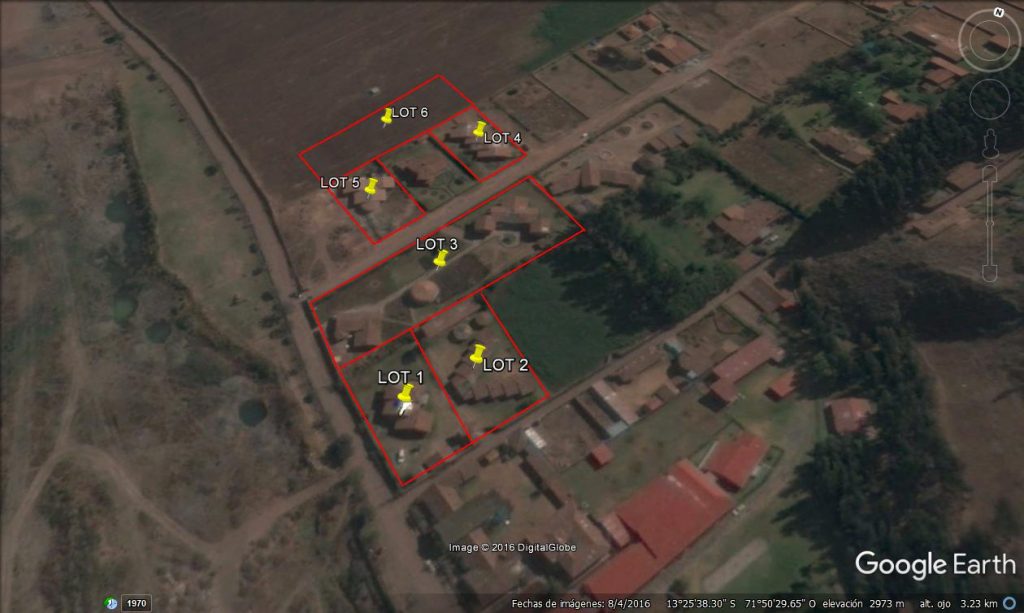 Lot 2 – 4,950 sq. ft.
* condor building - 8 guest rooms with private bath, reception area with fireplace and kitchenette.
* rainbow building - 4 guest rooms with private bath
* round glass "quiet room"
* round glass kitchen for long term guests
* office for manager - guest check-ins
Lot 3 – 12,276 sq. ft.
* restaurant
*round glass conference room (30 ft. diameter)
* double story Chakana Building with 12 guest rooms with private bath, reception area with fireplace and kitchenette.
Lot 4 – 3300 sq. ft.
* three 2-bedroom bungalows, each with 1 bathroom, kitchen, living room/dining area, fireplace.
Lot 5 - 3300 sq. ft.
* SPA building - 2 healing rooms, 1 small meeting room, 3 bathrooms, conference room with wood
floor (27 ft. x 16 ft.), spa room (27 ft. x 16 ft.) with Jacuzzi, dry Sauna, 2 tiled bath tubs, showers.